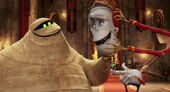 This Monster Is Missing A Few Parts
This page is missing some information and is a
Stub!
You can help out the Hotel Transylvania Wiki by
expanding it
!
The Day of the Dead Mariachi Band is a trio of Calacas who perform at Hotel Transylvania.
Providing in-house entertainment, this bone-tingling band of musicians spices up the halls of Hotel Transylvania with their spooky tunes.
The Band can be seen playing in the hotel's lobby, as Dracula welcomes guests to the hotel.
Moments later, after Johnny runs around the lobby, screaming hysterically (after realising that the monsters are all real), the Mariachi Band plays a fast, upbeat tune which ends after Johnny crashes into Mavis, while flying on a broomstick.
After Mavis' 118th birthday party ends (due to Johnny leaving after he is exposed as a human, Mavis raging at her father & the monsters all leaving to check out), the Mariachi Band remain in the lobby, playing a sad, mournful tune.
Along with most of the film's characters, the Mariachi Band are see in the film's end credits.
After humans are welcome to Hotel Transylvania, the Mariachi Band still continues to play in the Hotel.
Later on, the Band are seen playing, at the werewolf pups' birthday party.