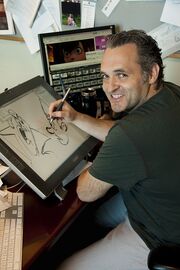 Gennady "Genndy" Borisovich Tartakovsky (Геннадий Борисович Тартаковский) is a Russian-born American animator, director and producer. His best-known creations are Dexter's Laboratory, Samurai Jack, Star Wars: Clone Wars, That 40's Show and Sym-Bionic Titan. He directed the computer animated comedy Hotel Transylvania, which was his animated film debut. He also wrote the uncredited story for the film.
Tartakovsky was born in Moscow, Russia, but moved to Italy, where he became interested in art. He and his family later moved to the United States. He moved to Sony Pictures Animation in early 2011 where he directed Hotel Transylvania and was set to direct an animated feature film based on Popeye. However this never came to be, so Tartakovsky moved on and returned to direct Hotel Transylvania 2 instead. In July 2012, he also signed a long-term deal with Sony to develop and direct his own original projects.
Shortly after the release of Hotel Transylvania 2, Genndy announced that he would not be returning to direct Hotel Transylvania 3: Summer Vacation. He said he would be leaving because of other projects he wanted to work on (such as the return of his Samurai Jack cartoon). However, Genndy drew inspiration from a vacation he had with his family. Genndy returned afterwards returned to pitch his idea to Sony and rejoined the crew for Hotel Transylvania 3: Summer Vacation. Genndy also stated that the other reason he returned to work on Hotel Transylvania 3: Summer Vacation was because he was convident he could tell a worthwhile story that could be told.
"A third one is always hard, because how do you make it not seem like a cash grab?" Whenever there is a third one of any franchise, you're always suspicious about it, so there has to be a good enough story that's sincere and real. This felt like we could really open up the world. It felt like it deserved to exist." Genndy said.[1]
Genndy also directed the Hotel Transylvania short, Puppy!. The short aired ahead of The Emoji Movie in 2017.
Genndy has stated that he does not plan to return to direct a fourth Hotel Transylvania film if Sony decides to make one. "I'm not going to say no like I did last time, because I learned my lesson, but I very much doubt it because I want to move on." he said.
References
Edit