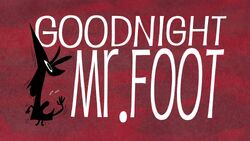 Goodnight, Mr. Foot is a traditionally animated short film directed and written by Genndy Tartakovsky. 
The animated short takes place during events before the first film. It begins with Bigfoot wandering through the forest until he stumbles upon Hotel Transylvania. Bigfoot checks into a room and begins to sleep.
A Witch maid enters the room to check on Bigfoot when she notices the window is open. Silently she uses her magic broom to cross the room and shut the window, however the witch notices a spider crawling around Bigfoot's bed. She attempts to kill the spider by swatting her broom at it all over the room. As the struggle continues between the witch and the spider the witch accidentally smacks her broom right into Bigfoot's sleeping face. Bigfoot shoots up in his bed roaring in confusion before returning to his sleep. The short ends revealing the witch trapped underneath Bigfoot's head as they both fall asleep.
Community content is available under
CC-BY-SA
unless otherwise noted.