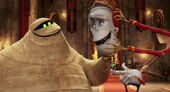 This Monster Is Missing A Few Parts
This page is missing some information and is a
Stub!
You can help out the Hotel Transylvania Wiki by
expanding it
!
Harry Three-Eye is a monster magician from Hotel Transylvania 2. He then appears in 2-D animation during the end credits. It is possible that he is related to Harriet Three-eye.
Appearances
Edit
He and his lovely assistant were performing magic tricks at the hotel. His magic tricks are not so human-friendly as he pulls a heart of a monster out of his chest, scarring the human audience.
Johnny considers his tricks are old-schooled for human.
Harry Three-Eye reappears in the thrird installment. He appears on the ship as a guest and but is ideally just a background character. Harry Three- Eye is also seen as someone who attends the dance party and is part of the Macarena montage.