The Scream Cheese is a kind of food appeared in Hotel Transylvania.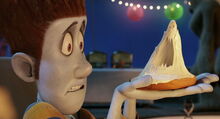 Appearances
Edit
It is a kind of alive, screaming and white cheese sauce that is one of Mavis' favorite. As it screams, a shape of screaming mouth forms and disappears and this happens over and over until the cheese is eaten.
In Hotel Transylvania, when some of the guests gether at the swimming pool of the hotel, Dracula gives Mavis a bagel with scream cheese on it, and then she gives it to Johnny, asking him if he would like to try; but Johnny declines with an excuse that he is allergetic to it. Later, Mavis eats the top of the scream cheese after Dracula and Johnny leave. In Hotel Transylvania 2, Screaming Cake is shown, being served at Mavis and Johnny's wedding. It is likely that these two kinds of food are related.